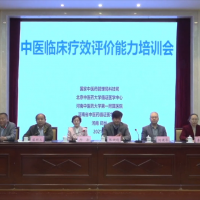 In order to implement the requirements of the "Opinions of the State Council of the People's Republic of China on Promoting the Inheritance and Innovation Development of Traditional Chinese Medicine" and Vice-Premier Sun Chunlan's instructions on strengthening the innovation of technical methods for clinical efficacy evaluation of traditional Chinese medicine (TCM), the State Administration of Traditional Chinese Medicine organized a project for all provinces, autonomous regions, and municipalities across the country, which is "Project of Improvement the Evaluation Ability of Clinical Effectiveness of Traditional Chinese Medicine for dominant diseases" for the National Clinical Research Base of TCM. This project was undertaken by the Center for Evidence-Based Chinese Medicine, Beijing University of Chinese Medicine, including curriculum development, training and teaching, and methodological guidance to 33 national TCM clinical research bases.
The center is committed to the development and innovation of research in TCM and evidence-based medicine of integrated TCM and western medicine, which maintains the international advanced level, highlights the characteristics of TCM research methods, and leads the development of evidence-based medicine in the field of TCM. It is the clinical epidemiology unit (CEU) approved by the International Clinical Epidemiology Network (INCLEN). The centre is currently the only one TCM academic institution among Cochrane China Network affiliates, as well as the only one TCM-institution-led GRADE center (Beijing GRADE Center) .
The first session of this training project was held in Zhengzhou, Henan in April 26-28, 2021. The theme of this training was "Common clinical research methods for traditional Chinese medicine and real-world study". It mainly combined classic clinical research methods with the characteristics of TCM itself, and introduced clinical research topics formation, research design overview, and pragmatic randomized controlled trial, cohort study, case-control study, cross-sectional study, qualitative study, and other research methods. At the same time, the statistical analysis methods commonly used in TCM research were introduced, including survival analysis, data mining, calculation of sample size, and big data analysis, etc.. 150 trainees from 33 research bases attended onsite workshop, while more than 150,000 physicians and researchers participated in the workshop online. The training won high popularity and much positive feedback from TCM doctors and researchers.
Content provided by Mei  Han, proofed by Jianping  Liu, Xun Li, translated by Xiaowen Zhang; Designed by Chunli Lu.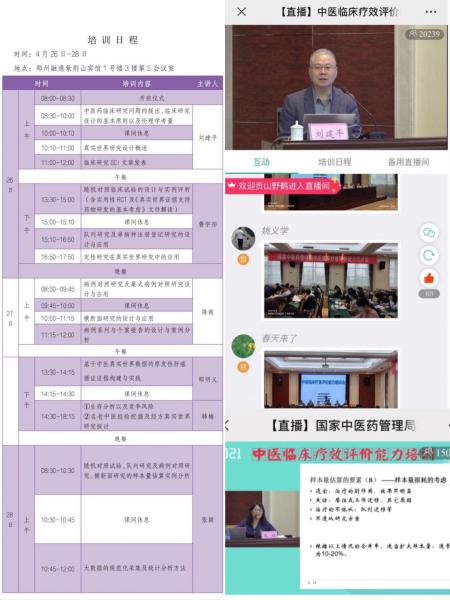 Workshop Schedule (left); Prof. Jianping Liu is giving lectures online (top right);
PhD. Ying Zhang is giving lectures online (bottom right)
Affiliate of Cochrane China Network
Center for Evidence-Based Chinese Medicine, Beijing University of Chinese Medicine